DISCLOSURE: Some of the links in my posts are affiliate links, meaning that at no additional cost to you, I will earn a commission if you like my recommendation and then click through and make a purchase. Details...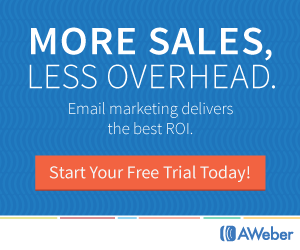 Top notch deliverability of email marketing & autoresponder. Convert website visitors into clients! Your website and follow-up system can market for you automatically, around the clock. Primarily an auto-responder service, eNewsletter service second. An easy-to-use suite of services & tools designed to engage your customers in multiple formats and provide analytic feedback to adjust your marketing over time. These tools include: email newsletters, website sign up forms, follow up autoresponders, email web analytics and blog newsletters (RSS to email).

---
---
---
---
---
---

Easy email newsletter creation, event organization, contact management, deliverability and customer support. They have industry benchmarks against which you can measure the performance of your campaign. With over 300 template designs that are customizable, Constant Contact can work for Small Businesses and Non-Profits.
---

A simple, intelligent and powerful email marketing utility that anyone can use. Mad Mimi makes email marketing easy for the creator, and easier on the eyes for the receiver. With ground-breaking technology, Mad Mimi is the simplest way to create branded, well-designed newsletters and promotions.
---

Full of features, with easy to tracking of everything, so you can see quick results for every email campaign you send. Social media integration and mobile features. And it's free for up to 1,000 subscribers.
---

A web-based software that combines CRM, email marketing, and ecommerce into one system. But the real magic is in our automatic follow-up engine, because it finally makes it easy for entrepreneurs to achieve amazing follow-up. When this happens, more prospects become customers…and sales explode. That's why we're the only software company that guarantees to double your sales. Infusionsoft software is written only in English.
---
PS - I know it's easy to get overwhelmed by reading blog posts full of ideas, tactics and tools. Be honest...
How frustrated will you be trying to implement this on your own?
How much time will you waste if it's not your next best step?
Did you just take the time to read this but you won't make any changes?
Or are you ready to take a small next step to build your brand?

Get answers, tips & instant feedback!
The "Marketing QuickHelp" 30-min strategy session provides quick answers, tips, resources & DIY tools. Use it for brainstorming, feedback on ideas & insight to shorten your TO-DO list!
Let's focus on your next best step to get more ideal clients & referrals!
Have questions or need more help?
Let's chat about your other options to work with me on a FREE Brand Breakthrough Call.
To YOUR success,


Marketing Strategist & Designer
I work with service-based entrepreneurs to attract more ideal leads, 24/7. I use a practical and flexible approach to "Simplify. Build. Profit. Repeat."
I offer a custom blend of 25+ years of expertise in marketing, websites, brand identity, strategy, tech solutions and more. My skills link together like blocks to create a custom fit for you.