DISCLOSURE: Some of the links in my posts are affiliate links, meaning that at no additional cost to you, I will earn a commission if you like my recommendation and then click through and make a purchase. Details...
MaestroConference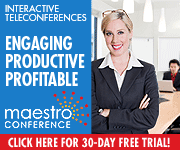 With MaestroConference, hosts can conduct truly interactive calls.
Instantly put participants into breakout groups.
Respond individually when participants "raise their hand."
Eliminate annoying background noise.
Instantly take an order.
Participants dial in via a standard telephone line and take advantage of special features directly from their telephone keypads.
InstantTeleseminar

Prospects might spend 60 seconds on your website. But they'll spend 60 or more MINUTES with you on a teleseminar. That's why teleseminars may be the most underutilized tool in marketing today. One of the teleseminar tools I recommend is InstantTeleseminar. Not only is it the easiest to use, it's the only teleseminar / webcast tool that's designed specifically for people who are selling online…AND they've got the best training in the industry. So not only do you get the tool, you learn how to make it work in your business.
---
PS - I know it's easy to get overwhelmed by reading blog posts full of ideas, tactics and tools. Be honest...
How frustrated will you be trying to implement this on your own?
How much time will you waste if it's not your next best step?
Did you just take the time to read this but you won't make any changes?
Or are you ready to take a small next step to build your brand?

Get answers, tips & instant feedback!
The "Marketing QuickHelp" 30-min strategy session provides quick answers, tips, resources & DIY tools. Use it for brainstorming, feedback on ideas & insight to shorten your TO-DO list!
Let's focus on your next best step to get more ideal clients & referrals!
Have questions or need more help? Let's chat about your options...
To YOUR success,

The following two tabs change content below.

I work with service-based entrepreneurs to attract more ideal leads, 24/7. My practical and flexible approach will help you to "Simplify. Build. Profit. Repeat." I offer a custom blend of 23+ years of expertise in marketing, websites, brand identity, strategy, tech solutions and more. My skills link together like LEGO Bricks to create a custom fit for you.