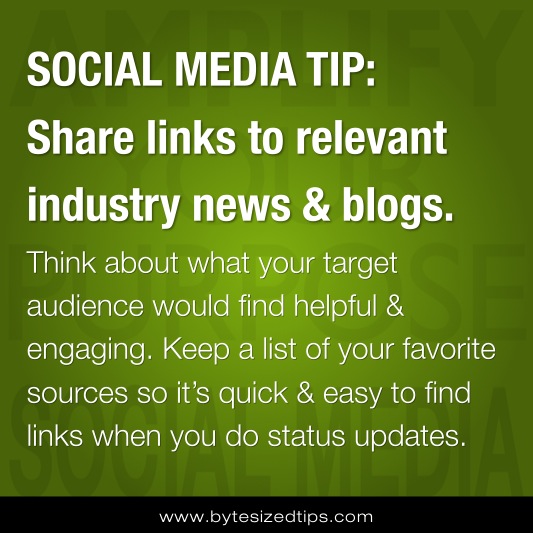 DISCLOSURE: Some of the links in my posts are affiliate links, meaning that at no additional cost to you, I will earn a commission if you like my recommendation and then click through and make a purchase. Details...
Think about what your target audience would find helpful & engaging. Keep a list of your favorite sources so it's quick & easy to find links when you do status updates.
Do you find yourself at a loss when it comes time to making updates on social media?
An easy way to get started is by sharing other people's content! Put your own spin on it with a short comment.
Regularly posting informative articles to turn your page into a trusted resource for relevant information. You can add a short comment with why you think it's important to share.

Increase engagement on your social profiles
More interaction on your Facebook page means more people are likely to see the status updates of Fans who like your content or leave comments about what you've posted. Links are an easy way to post regularly. Add a photo to make it pop.
LinkedIn now has LIKES & comments on your updates, and this will also help boost your visibility with your business connections. The new layout really highlights links with the title and a short excerpt and a photo.
Twitter updates with links are more likely to be retweeted.
What types of links should you post?
Your social media strategy should include identifying who your target audience is and what they are interested in. Remember, it's not what YOU are interested in… it's about YOUR TARGET AUDIENCE will be interested in.
Articles that pertain to community interests are a great way to provide information and keep people coming back to your social profiles for more. For example, music producers may post a link to the latest concert in their town. A dentist might link to an article about the newest toothbrush on the market.
Mix in links to your own website and blog
You can also link to individual blog pages on your website that feature articles. This is a great way to direct traffic back to your site.
Plan ahead to make it easy to post status updates
Next time you are browsing around getting caught up on industry news, bookmark or make a list of good sources. Look for industry news sources – online magazines or blogs. If you aren't sure where to start, find your topic on AllTop.com, a collection of headlines of the latest stories from the best sites and blogs that cover a topic. You can also look on SmartBrief and have your headlines delivered to your inbox from thousands of sources.
Combine this idea with other Byte Sized Tips:
TAKE ACTION: Get yourself setup and ready to go to post links on your social networking sites! Start by making a list of 5 sources you can quickly use.
---
Hello Service-Based Entrepreneur,
I know it's easy to get overwhelmed by reading blog posts full of ideas, tactics & tools. Be honest...
How frustrated will you be trying to implement this on your own?
How much time will you waste if it's not your next best step?
Did you just take the time to read this but you won't make any changes?
Or are you ready to take a small next step to build your brand?
Get clarity & your next step forward!
I'm here to help you with your marketing for the new normal & beyond. Let's talk about your options to work with me on a FREE 30-min call.
To your success,


Marketing Strategist & Designer

I work with service-based entrepreneurs to attract more ideal leads, 24/7. I use a practical and flexible approach to adjust to the new normal…and beyond. I offer a blend of 26+ years of expertise in marketing, websites, brand identity, strategy, tech solutions and more. My skills link together like blocks to create a custom fit for you.